President Obama's speech tonight left your humble correspondent less than comforted; nothing new there. True, he acknowledged that the San Bernardino massacre was an act of terrorism, a conclusion he to which he was dragged kicking and screaming. He even acknowledged that the Fort Hood shootings by then Major, now Lt. Colonel (he got a promotion while in prison) Nidal Hasan was also an act of terrorism, which is a real shocker. Up to this point Hasan's murderous rampage was officially labelled 'workplace violence.' He also dropped the claim that the motives for the husband and wife murder spree were completely unknown and unknowable; we are now told that it was motivated by an evil ideology that is a perversion of Islam. Essentially, this had nothing to do with REAL Islam.
He acknowledges that terrorism has changed. It has been forced to change because his policies have been so effective at breaking up large terrorist plots, reducing those infected by the evil, non Islamic ideology of hate to lone wolf operations.
No, seriously, he said that. No acknowledgement that his policies have fanned Jihadism from a dangerous fire into an out of control conflagration that has set the scene for World War III. Nope, it wasn't him! Tacitly he's blaming Bush, whose fault all this is, and will continue to be right up until the next Republican administration is sworn in.
But even though his Bizarro policies have been successful, his administration is taking steps to make them even more successful, by reviewing and tightening up the criteria for the K-1 Fiancee visa. That'll do it for sure! No need to tighten up the criteria for visas for non matrimonial entrants from those parts of the world where the flame of Islam burns hot and wild. No need to impede the flow of gazillions of illegal immigrants unregistered invaders undocumented Americans future Democratic voters flowing across our borders. No siree! On the contrary we gotta import hundreds of thousands of 'refugees' (tee hee!) from those benighted places, making sure that we get only the poor, peaceful Muslims while insuring the vile, bloodthirsty Christians remain trapped in the ISIS slaughterhouse. Of course America is not at war with Islam, even though a big chunk of Islam is at war with us.
But there are other important steps we as Americans can and must take in order to insure our safety. Namely, insuring that people on Do Not Fly lists are ineligible to buy guns! In fact, more 'common sense' gun laws must be enacted by Congress. Because assault weapons kill people! Guns don't protect people. Only a government monopoly on guns can protect people. Like at Waco and Ruby Ridge. Trust government, not yourself.
We have to prevent a Muslim backlash, we must accept with open arms or Muslim friends, neighbors, military personnel and sports heroes. Aye, the same Muslim backlash about which we are continually warned but never see. In fact, we as Americans must welcome even more of these folks whose religious beliefs are at odds with what America is (or was, anyway) and who hold as a fundamental tenet of their faith that they must by any means necessary compel everybody to cave to their demands that they never perceive anything that might offend their religious hypersensitivities lest they explode in righteous Jihadist rage(TM). We must respect them even when they won't respect us, our laws, our culture or our manner of life. This is, we are told, our American heritage.
No, dear reader, I am not comforted. Neither am I surprised. The transformation of America continues apace. I grew up in the land of the free and the home of the brave, I find myself living in the land of the bewildered and the home of the timorous.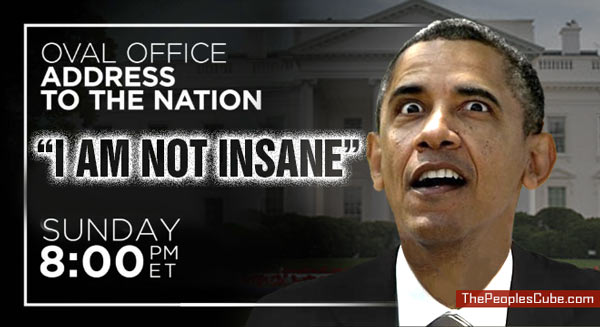 Hope lives yet, but finds not its foundation in the President or any political movement. Hope lives because there are still men and women who believe in themselves, the principles of the Founding and who plead for Divine Favor. What the Progressives promise is a world radically at odds with reality, which cannot stand and which has demonstrated its failure everywhere it has ever been tried. I believe it was Winston Churchill who said something to the effect that America would always do the right thing, after having exhausted every other possibility. We're scraping the bottom of the barrel, now there is nowhere to go but up.
We know what we must do.  Now let's be about it.